"A fascinating story, engaging and articulate . . well done." Peter Martin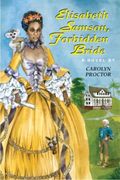 In  18th century Suriname, the educated Free Negress Elisabeth Samson, owner of several flourishing coffee plantations, desires the one thing her wealth cannot buy: a legal marriage with her consort, a white colonial officer.
But can she overcome the strict Dutch laws forbidding marriage between black and white against the powerful forces of the colonial Governor, white planters  and the Society of Suriname, who covet her property, call her "whore" and accuse her of treason?